Un grande evento ha già segnato questo inizio di 2016 nel mondo della musica, l'uscita di Blackstar, nuovo album di David Bowie, a 3 anni dal precedente.
Un grande disco, con il quale il sessantanovenne artista inglese dimostra per l'ennesima volta lo sconfinato talento e la costante voglia di sorprendere.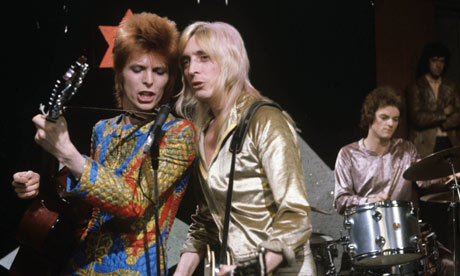 Quest'oggi non voglio però parlarvi di questa nuova uscita, bensì proporvi uno splendido video in cui sono incappato nei giorni scorsi: un documentario della BBC che ne illustra l'ascesa, i primi anni, fino alla nascita di Ziggy Stardust.
Una splendida ricostruzione, che vi può permettere di (ri)scoprire la nascita di un mito che dopo quasi mezzo secolo ancora ci sa emozionare e sorprendere così tanto.
Due annotazioni mi sembrano particolarmente interessanti.
In primo luogo, è incredibile pensare che Bowie, dopo mille esperienze e già svariate pubblicazioni, fra cui un singolo di grande successo come Space Oddity e due ottimi album come The man who sold the world e Hunky Dory, arriva a pubblicare The rise and fall of Ziggy Stardust and the Spiders from Mars a soli 25 anni!
La seconda è che il documentario ci offre una visione da dietro le quinte della nascita non solo di un grande artista ma anche di un fenomeno popolare con pochi precedenti, permettendoci di capire come anche un simile talento sia potuto emergere solo grazie ad un duro e paziente lavoro.
Prendetevi un'oretta di tempo per gustarlo, accompagnati nel racconto dalla voce di Jarvis Cocker: enjoy!!